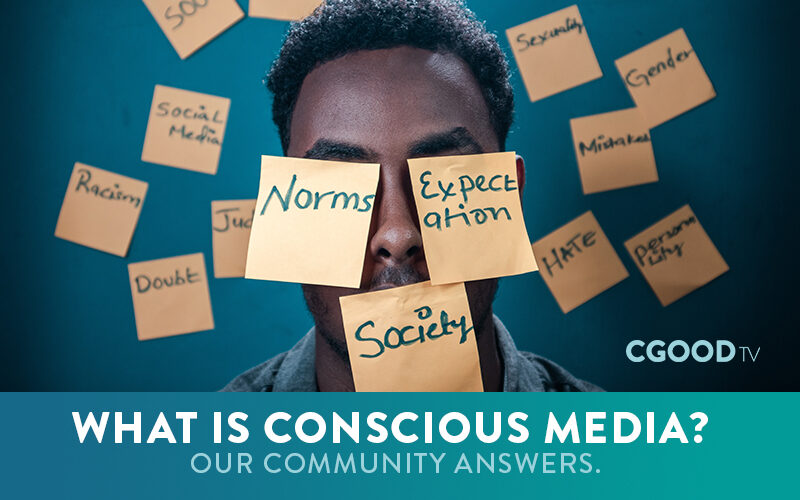 Consciousness itself is a somewhat nebulous and esoteric word with as many different definitions as there are people. Personally, I like Michael Singer's definition of consciousness:
"As you go deeper into yourself, you will naturally come to realize that there is an aspect of your being that is always there and never changes. This is your sense of awareness, your consciousness."
One could say that consciousness expands by shedding our false reality (or ego) to get closer and closer to our truth, the awareness that we are part of a greater awareness. By extension, conscious media elevates consciousness – starting with the individual and through the individual, impacting the collective.
There is often confusion over which story genres fall under the conscious media umbrella. I like to describe the concept as visual stories that raise an individual's consciousness, whether a scripted TV series like "Ted Lasso" or a documentary film such as "My Octopus Teacher."
Conscious media advocates BEING the change we wish to see in the world.
This separates it from social justice or social impact media, which focuses on visual stories that encourage external change–whether on a community, governmental, or cultural level.
It's important to mention that for the past decade or so, conscious media has been referred to as "transformational media" and/or "mindful media". Personally, I view conscious media differently in that it relates to specifically what the media changes and, ideally, how it is made.
In contrast, transformational media has the potential to transform individuals or systems. Mindful media might change minds, but not necessarily hearts and souls.
These descriptions provide important distinctions since, as our community member Daniel Karslake says, "You change peoples' minds by first changing their hearts."
In early 2018 Conscious Good launched a private community network, our Creators Network, to provide a non-judgmental platform for like-hearted and like-minded creators to express themselves, share their beliefs and work, and meet and collaborate.
I recently gathered several filmmaker friends from Conscious Good's Creators Network to form a Conscious Media Task Force to explore the possibility of establishing a set of objective criteria to identify what conscious media is and what it isn't. Together we concluded that conscious media is evolutionary media and serves one or more of the following criteria:

CONSCIOUS MEDIA…
· Stimulates our desire to evolve into healthier and more thriving ways of being (both individually and collectively.)
· Reveals multiple, different worldviews and perspectives, including both familiar and unfamiliar ways of looking at the world, helping us to see beyond the limits of our unique perception, bridging divides whenever/wherever possible.
· Enhances and expands the individual and collective human experience by provoking positive action, ultimately restoring hope for the viewer.
· Celebrates the complexity of humanity by helping to balance the equity between genders, races, beliefs, socio-economic strata, and the light and dark sides of the human experience.
· Reconnects the viewer to something more significant (i.e., the collective unconscious, God, nature, planet, universe, themselves, and others.)
These criteria hold both the key and the untapped potential of conscious media. Fundamentally, the story needs to be well crafted and entertaining––otherwise, audiences won't be able to suspend disbelief, connect emotionally to the characters and their journey, and then, by extension, change hearts, minds, behaviors, and outcomes.
It is important to note that the Task Force agreed that consciousness-raising visual stories are irrespective of genre, i.e., a horror film could be considered conscious. Ultimately, the Creators Network Task Force and Conscious Good TV (CGOOD TV) diverge. CGOOD TV will not program horror films or anything too violent, egregiously offensive, or stories that celebrate the dark side of the human experience outweighing the light.
With love & gratitude,
Trina
How would you define consciousness and conscious media? We'd love to hear from you on our Creators Network.
Meet the Members of the Conscious Good Creators Network Conscious Media Task Force: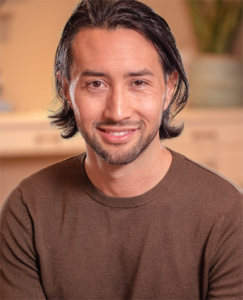 Akira Chan
Akira Chan is a documentary filmmaker and Co-Founder of Rare Media, a digital studio focused on storytelling for social impact and human potential. Past projects include "The Bloom," a series on global festival culture, "Igniting Impact" which premiered at the United Nations, "Little Humans," a web series on conscious parenting, and "Black Star," awarded Audience Best Short at the Illuminate Film Festival. Akira lives, works and plays with his wife and son in Southern California.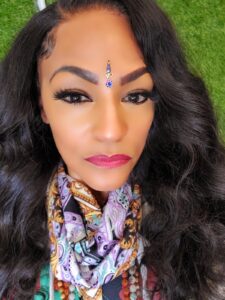 Alika Allison Jordan
Currently in pre-production as Writer/Producer for A Road to Daisies and Dandelions (to film summer 2021). She is also the Founder of Allison Jordan Promotion, Events and Management, LLC, Epic Arts & Entertainment, LLC and is the Director of the African Festival of the Arts in Chicago. She's the creator of Libations and Laughter, the Associate Producer of the Starz Network series Martin Lawrence 1st Amendment Stand Up, and former President of Operations for MAMISI/AMEN RA, founded by actor, Wesley Snipes. Alika has worked in Literary for the William Morris Agency, Asst. Special Events Director for the City of Chicago, Casting Associate, Writer and Production Coordinator for HBO, Johnny Carson Productions, NBC and Fox Network shows.  Alika was the General Manager of the ABL's Chicago Condors. Alika will make history in 2021 in promoting professionally sanctioned boxing fights. She is a Board Member of NAMI: South Suburbs Illinois and a Recovery Support Group Facilitator. She is a Yogi and Vegan Chef and Influencer.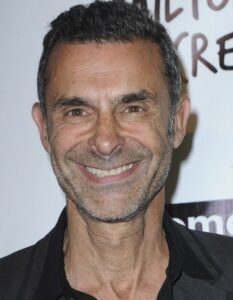 Barnet Bain is a Canadian film-maker, author, and educator. Select film credits include Milton's Secret (director, writer), Oscar-winner What Dreams May Come (producer), Emmy-Award nominee, Outstanding TV Movie, Homeless to Harvard (executive producer), and The Celestine Prophecy (writer, producer). Barnet consults and trains business leaders and private clients who are committed to high performance. Through his creativity workshops, Barnet guides people of all ages and walks of life to expand their vision of what's possible and develop their gifts and talents with passion. Barnet is a faculty member of Columbia University, Spirituality Mind Body Institute, and Esalen Institute. He is the author of The Book of Doing and Being: Rediscovering Creativity in Life, Love, and Work, and The Third Story: Awakening the Love That Transforms.
Award-winning filmmaker, best-selling author, change-maker, and mom, Betsy is best known as the Co-Writer, Director, and Producer of the hit film What The Bleep Do We Know?!. She has also produced the award-winning Song of The New Earth, Pregnant In America, Radical Dating, and The Empty Womb. She has authored multiple books, including her newest; Killing Buddha, Betsy currently serves as the Head of Content for CGOOD TV.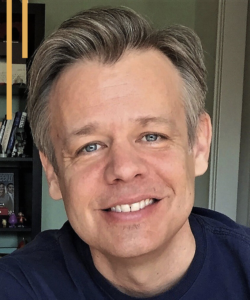 Award-winning director/producer whose latest feature, FOR THEY KNOW NOT WHAT THEY DO (Tribeca 2019), is a follow-up to his landmark documentary, FOR THE BIBLE TELLS ME SO (Sundance 2007) which examines the intersection of religion, sexual orientation and gender identity. Karslake's second film, EVERY THREE SECONDS (NOIFF 2014), is about the amazing potential in each of us to change the world.  Dan currently serves as the Acting Executive Director of Conscious Goodness, the non-profit sister company of Conscious Good.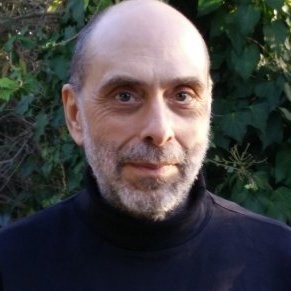 Mark is a transdisciplinary artist, filmmaker, researcher, consultant, educator, and media psychologist focusing on integral, transpersonal, and transformative approaches to media and spirituality. Mark has degrees and certifications in Cinematic Media, Transpersonal Psychology, Integral Theory, Creative Expression, and Spiritual Guidance. Mark has worked in the entertainment industry as a Motion Picture Producer, Writer, Director, Editor, Researcher, and Consultant. His creative works have been shown on television, in theaters, schools, colleges, and in expositions worldwide. Mark has also conducted and published seminal research on the integral and transpersonal dimensions of the cinema and the experience of divine guidance across religious traditions and cultures.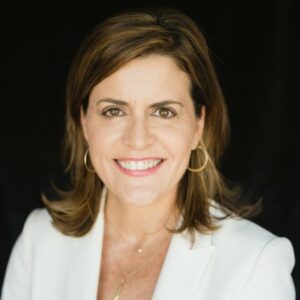 CEO and Founder of Conscious Good, a community-driven media platform for those committed to conscious living.  Earlier in her career, Trina launched the Tribeca Film Festival for Robert De Niro, taking the reigns as its first Festival Director. Trina previously oversaw content for Gaia (GaiamTV). Before Gaiam, she was the CFO at Prana Studios, COO/CFO of Intrepid Pictures, COO of Withoutabox, and acting Managing Director of Film Independent. Trina's film producing credits include: Broken Diamonds, Chutney Popcorn, Grenade, and I Shot a Man in Vegas. 
Conscious Goodness, the non-profit sister company of Conscious Good, strives to evolve humanity through the creation, promotion and consumption of conscious media. As media usage grows exponentially across all sectors globally, we are collaborating on research of the role of beneficial content in our ability to connect, to process trauma, to heal, and to better understand each other and will enthusiastically share our findings with the world.  We're also supporting thoughtful content-makers as they strive to create conscious content from inception to distribution, and we offer mentorship to the next generation of enlightened storytellers. In doing so, Conscious Goodness is building a sustainable conscious media landscape that promotes unity instead of division, love instead of fear.
Listen to Founder and CEO of CGOOD TV Trina Wyatt and Founder of Amalgam Kitchen and Advisor to CGOOD TV Anna Getty discuss Conscious Media.