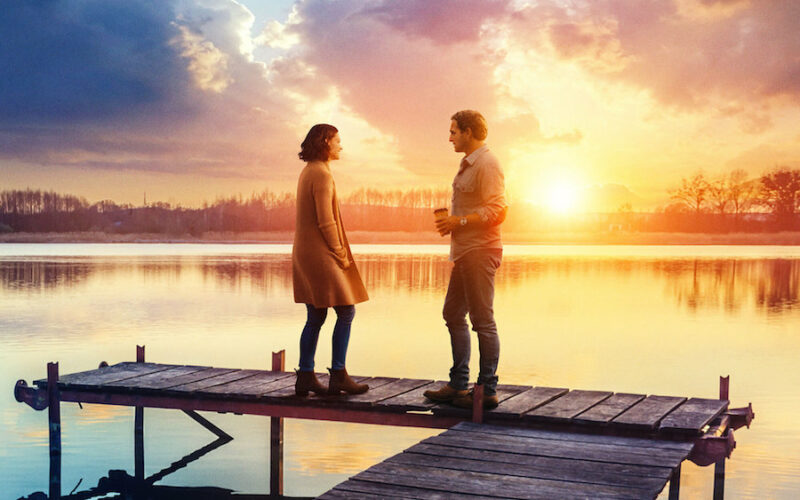 The Secret – Dare to Dream – Film Review
By Lorraine Hess
Starring Katie Holmes and Josh Lucas, "The Secret: Dare to Dream" is inspired by the phenomenally successful 2006 book, "The Secret", by Rhonda Byrne. The wildly popular book has sold more than 30 million copies worldwide and has been translated into over 50 languages. Aficionados will know about the book's philosophy based on the Laws of Attraction principles. Put simply, like a magnet, our thoughts and feelings create powerful energies – if we are pessimistic, we draw in negativity, if we think positively, we pull in positive outcomes. According to the book, through creative visualizations, and the practice of gratitude, we can create what we really want from life.
Starring the striking Katie Holmes, the rather dishy Josh Lucas, and directed by Andy Tennant ("Ever After: A Cinderella Story"; Sweet Home Alabama"; "Hitch"), the story follows the beautiful young widow, Miranda Wells, (Holmes) as she battles with trying to make ends meet for her three kids in their rundown New Orleans home. As we witness her harried existence and money woes, the drama starts to build as a hurricane ominously heads their way. By coincidence (or, as Einstein said, is 'coincidence just Gods way of remaining anonymous'?), Bray Johnson, (Lucas), happens to arrive in town clutching a manila envelope with a secret message to Miranda. Without spoilers, the two literally crash into each other in a minor fender bender, setting up a chain of events that involve a storm, a missing message, personal transformation, romance and humor. Throughout the film, the enigmatic Bray's musings on life overtly express the philosophy of Byrne's book. As he says at one point, "we have to be careful because we get what we expect", and therein lies the very secret of the film.
There will always be skeptics about the scientific validity of the Laws of Attraction. That being said, by casting aside any cynicism about the philosophy itself, and simply 'going with the flow' in the manner the book and film suggests, we can sit back and enjoy this rather pleasant ride as an antidote to the current depressing zeitgeist in which we find ourselves. At the very least, the film encourages us to enter a universe that offers hope instead of despair. By expanding our consciousness to turn off our automatic patterns of thought and opening ourselves up to new and more empowering ways of thinking, like the characters in the film, we can grab destiny by the horns and forge a path to happiness.
Ultimately, this family film is a feel-good love story that draws you in and will warm even the coldest of hearts. The filmmakers intended to 'make a film as funny, emotional and endearing as its message is hopeful." In that, they surely succeed.